100% Online Live & Self Paced
PowersYoga has been established since 2005 and has trained countless teachers in yoga, aerial yoga and sup yoga. Andrea Powers, the lead trainer and owner of Powers Yoga has developed a well rounded teacher training incorporating a nice balance between the physical, mental and spiritual practices of yoga.  
This training is 100% online and Approved by Yoga Alliance through live zoom meetings or through prerecorded modules.
Meet Your Lead Teacher
Andrea Powers, owner and lead teacher, journey began when she started meditating at the age of five. Her connection to the energy that moves through the body and one's ability to control it for both mental and physical balance was installed early in her life.
Andrea is also a natural athlete. She began running at the age of eight but when she hurt her back in 1990 she sought out a new way to exercise, she found yoga. Her first experience to yoga was a spontaneous Kundalini Awakening that led her to Los Angeles where where she would have another life altering event with Master Yogi Bhajan in 1992. He would explain to her the mastery and the rareness of her Kundalini experience.
Equipped with knowledge and experience, Powers became a 200 Hour Yoga Teacher through YogaFit Training System with Beth Shaw. She instantly opened her own yoga studio in 2005 where she would create her own brand Powers Yoga and develop signature classes such asPowersFlow, PowersAerial, PowersSweat, and PowersBarre to name a few.
Andrea didn't stop there she wanted to expand her abilities and creativity so she decided in 2011 to became an Advanced Anti Gravity Yoga Teacher and then found her love for Standup Paddle Boarding. She soon became the leader in the North Jersey area in SUP Yoga. She later became the original inventor and creator of the YOGABOARD also known as Indoor SUP Yoga where she would become a Presenter at the Yoga Journal Conference in NYC.
Powers took another leap of faith and moved to Sedona, Arizona where she holds her very popular healing vortex yoga retreats.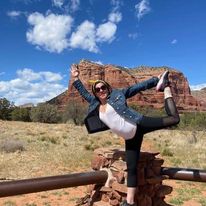 Check your inbox to confirm your subscription